Technical Analysis: Part 2 – Trading on the News is Popular in All Markets

In Part 1 of this series, we discussed the basics of what Technical Analysis is and how it can help both a short-term and long-term investor to optimize his entry and exit points in any market, whether for securities, commodities, or foreign exchange.



The flexibility of technical analysis is that knowledge gained in these disciplines can be applied across markets and time frames as well. The principles hold in each circumstance, but the effectiveness of the "tool" is directly proportional to the experience of the user.

These tools are the same as with any craft – practice makes for better application, and a variety of tools may be the best solution for a specific application whether it involves purchasing a stock or riding a healthy upward trend in the currency market. For the latter activity, forex brokers provide what are known as free demo accounts for devoting hours to practicing and refining your forex trading strategy with "virtual" cash and real-time currency quotes. In forex trading, the confluence of both fundamental and technical analysis also converges to produce one of the most popular trading strategies there is, trading on the news.

Government agencies the world over release important economic data on a daily basis, most often tied to published schedules. These releases often move our financial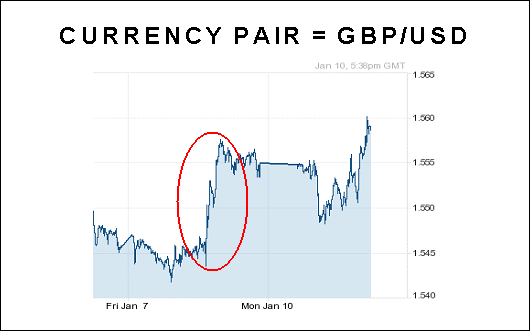 markets due to their financial significance, and no where more dramatically than in our currency markets. Foreign exchange rates are the "fulcrum" between two competing global economies and measure the market's balanced appraisal of the relative health and strength of each compared to one another. Trading in currencies is all about speculation and finding healthy trends that build for hours. (It should be noted that Forex trading is risky and not suitable for all investors. Since currency trading is a speculative activity you should never risk funds that you cannot afford to lose.)

In that regard, trading on news releases offers an opportunity that can be anticipated and planned for in advance. Although each data release may move markets to varying degrees, based on current or previous trends and the current focus in the marketplace, the following five release types deserve their fair share of attention:
Interest rate decisions by the Central Bank
Retail sales figures
Inflation (consumer price or producer price)
Unemployment
Industrial production and GDP releases
At present, employment data tends to be the major market mover, and from a currency perspective, the "GBP/USD" currency pair tends to react more than other heavily traded pairs to this type of release. On the first Friday of every month, the Department of Labor in the United States release it non-farm payroll data for the previous month at 8:30 EST. The event is much anticipated, and the chart above from the January 2011 release indicates the reason for the attraction – a healthy trend is nearly always the result.
In this case a "130-pip" trend, as opposed to an average "40-pip" opportunity at any other time, developed over two hours after analysts had time to assimilate the report and form an opinion about its contents. Armed with this knowledge, the forex trader need not predict the final direction of the trend, but he does need to enter a position after the direction has materialized. Technical analysis provides the tools to achieve this objective as presented in Part 1 of this series. In this example, timeframes may be in the minutes, but on the chart from Part 1, we can see that this release led to a weakening trend in the Dollar that lasted for a few days, indicated by the "blue" oval: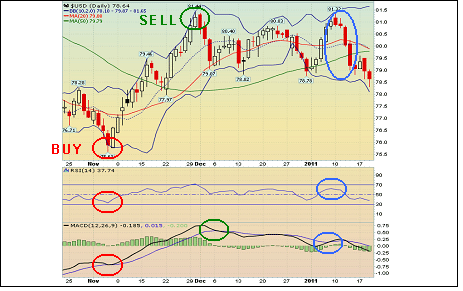 For investors and traders alike, a basic understanding of Technical Analysis can lead to more effective entries and exits in all markets.


Return to Previous Page